Mass tort cases have played a pivotal role in shaping legal landscapes, with some leaving an indelible mark on history. In this blog post, we'll delve into some of the most significant mass tort cases that have shaped the legal world.
1. Tobacco: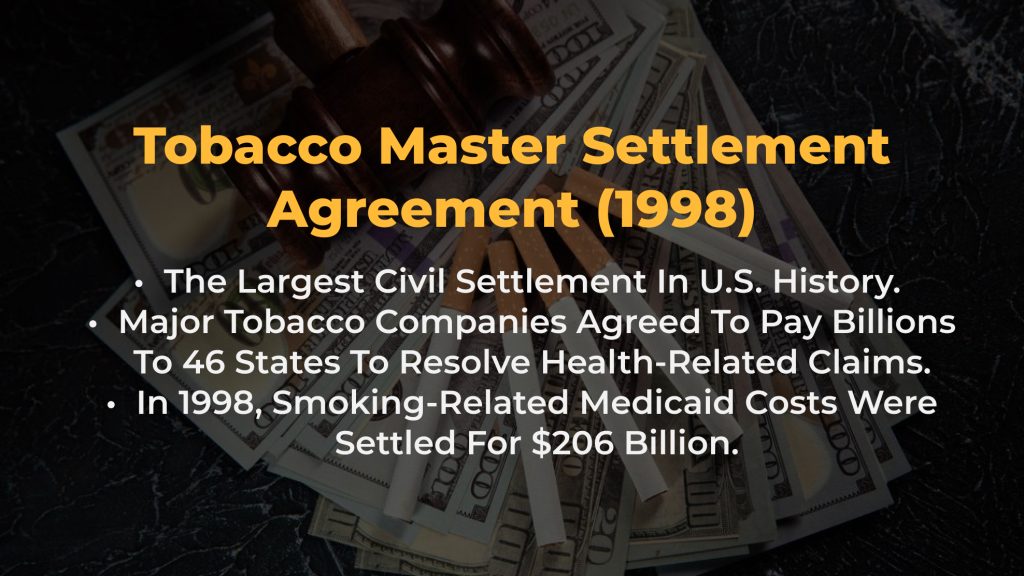 In the 1980s, lawsuits targeting Big Tobacco highlighted the industry's failure to warn consumers of tobacco risks and false advertising. The impact was substantial, leading to a $206 billion settlement in 1998 for smoking-related Medicaid costs. Ongoing lawsuits allege illegal advertising to children and deceptive practices regarding "light" cigarettes, maintaining the fight against tobacco industry misinformation.
Overview: The largest civil settlement in U.S. history.
Impact: Major tobacco companies agreed to pay billions to 46 states to resolve health-related claims.
Significance: The case changed public perception of tobacco and led to extensive reforms in the industry
2. Agent Orange:
In the 1970s, Agent Orange became the pioneering mass tort, addressing toxic exposure among Vietnam combat veterans. The term Agent Orange refers to a blend of herbicides used during the Vietnam War. Herbicides were stored in 55-gallon drums with orange stripes to identify them as Agent Orange. Herbicides used during the Vietnam War, including Agent Orange, led to severe health effects. Plaintiffs sought medical care and benefits for their suffering due to exposure.
Overview: Veterans filed lawsuits against companies over health issues related to the herbicide used during the Vietnam War.
Impact: A settlement of over $180 million.
Significance: Highlighted the long-term health consequences of exposure to harmful substances during military service.
3. Asbestos:
Originating in the 1980s, asbestos litigation emerged as the longest-running U.S. mass tort. Companies, aware since the 1920s that asbestos exposure could cause serious health issues, failed to protect or warn employees and customers. Johnson & Johnson's Baby Powder, linked to asbestos contamination, is implicated. Over $30 billion has been set aside for asbestos victims, and ongoing lawsuits persist.
Overview: Emerging in the '80s, asbestos litigation is the U.S.'s longest mass tort. Companies, aware since the '20s, neglected to warn, leading to severe health issues.
Impact: Exposure causes serious health conditions like mesothelioma and lung cancer. Johnson & Johnson's Baby Powder's link to asbestos intensifies the crisis.
Significance: Ongoing lawsuits reveal corporate negligence, with $30B allocated for victim compensation.
4. Silicone Breast Implants:
In 1984, the initial significant lawsuit involving silicone breast implants surfaced. These medical devices became linked to cancer, autoimmune diseases, and various concerns. Despite the less-than-compelling medical evidence in these cases, the lawsuits led to the financial downfall or near bankruptcy of manufacturers of silicone breast implants.
Overview: Initial significant lawsuit involving silicone breast implants.
Issues: Implants were linked to cancer, autoimmune diseases, and various health concerns.
Impact: Despite inconclusive medical evidence, the lawsuits led to financial challenges for manufacturers.
5. Fen-Phen Diet Drugs
In 1983, pharmacologist Michael Weintraub proposed combining fenfluramine and phentermine to counterbalance the negative effects of Pondimin, resulting in significant weight loss. By 1992, the fenfluramine-phentermine combination, known as "Fen Phen," gained popularity despite lacking FDA approval. The demand for Fen Phen led to the development of Redux. Concerns arose about its safety, with links to pulmonary hypertension. Dr. George Bray emphasized the unique challenges of treating obesity due to its cosmetic nature. After the Fen Phen debacle, Meridia, a similar drug affecting serotonin levels, faced scrutiny for cardiovascular risks. The quest for a safe diet drug continues amid obesity struggles.
Overview: Mass tort involving diet drugs Fenfluramine and Phentermine.
Impact: Settlement of over $3.75 billion due to health issues, including heart valve damage.
Significance: Emphasized the need for thorough testing and transparency in the pharmaceutical industry.
Conclusion:
These landmark mass tort cases showcase the transformative power of legal actions in addressing widespread harm and shaping regulations. They underscore the importance of holding entities accountable for the consequences of their products or actions, contributing to a safer and more informed society.